SVK
For over 115 years, SVK has been a producer and distributor of construction materials. Today, SVK has become a global supplier of Fiber Cement based products ranging from façade panel systems to corrugated panels. In the States, SVK specializes in through body colored High Density Fiber Cement Façade panels. The Colormat panels offer a range of beautiful colors and textures while the Puro Plus panel provides a natural grey fiber cement look. Their superior aesthetics, excellent durability, and Class A non-combustible rating make SVK Fiber Cement panels an ideal cladding product.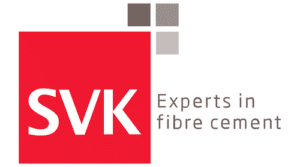 CRMC Cancer Center
The CRMC Cancer Center project located in Chesapeake, VA and utilizes the SVK Fiber Cement Façade panel system in the Jasmine Color. These panels were installed over DuPont Thermax insulation. The SVK Panels were attached using exposed fasteners over the Knight Wall Thermally Broken Rain Screen Attachment System. CRMC project also utilized Parklex Phenolic Wood Panels, NorthClad Aluminum Panels, and Envel Ultra High-Performance Panels.
Videos
The below video shows the proper installation methods for Fiber Cement panels at a window sill and the importance of air flow behind Fiber Cement Rain Screen Panels.
SVK Technical Documents
SVK Specs